Proceeds come from the airport's 11thAnnual 5K/10K Run on the Runway that was unable to be held due to the pandemic  Piedmont Triad, NC – Paul...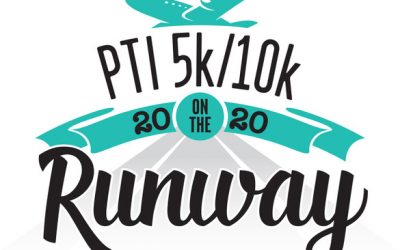 Thank you so much to all of you who showed and braved the rain.  We had a great time and hope to see you all back in 2014.
May 8, 2013 - Allegiant Airlines & PTI will be giving away 6 four-packs to the May 26 Coca-Cola 600 Sprint Cup Race. Just submit your caption to the photo above at http://bit.ly/15B63Ad. All entries will be judged based on originality. Entry deadline is 5 p.m....
March 21, 2013: Piedmont Triad International Airport (GSO) announced today that Allegiant Air will begin new nonstop low fare service from PTI to Fort Lauderdale-Hollywood International Airport (FLL) beginning June 6. Allegiant will begin the new service with twice...
Registration for the 2013 Blue 5K/10K is open.  Click here to register.
Click the title above for additional information, registration form, sponsor list and corporate challenge information.
Frontier Airlines will begin three weekly nonstop flights from PTI to its Denver hub beginning on May 1. This will be the only nonstop service between these cities. To celebrate the new service, Frontier is offering fares as low as $99* each way available for purchase through Feb. 16, 2013 only at FlyFrontier.com.
January 14, 2013 - Piedmont Triad International Airport has always been the quick and easy way to travel. Now it has become even more convenient. We are happy to announce the launch of the ExploreThePiedmont.com events calendar. Beautifully designed and simple to use,...
Cone Health presented emergency workers today at Piedmont Triad International Airport with donated defibrillator equipment in honor of their efforts on the evening of December 7th that saved the life of a young girl. "We are honoring today the emergency service...
November 17, 2012 – Frontier Airlines today expands its service from Orlando, Fla. (MCO) with the launch of nonstop service to Greensboro, N.C. (GSO). This is the only nonstop service from Greensboro to Orlando's most convenient airport, where you're closer to all the...
October 9, 2012 – Tomorrow the Piedmont Triad International Airport (PTI) will celebrate the 30th anniversary of the current terminal building by providing passengers with vouchers for a free cup of coffee or a free doughnut redeemable at Dunkin Donuts located on both...
September 28, 2012 - Honda aircraft company breaks ground on new Maintenance, Repair and Overhaul Facility (MRO) located at the companies world headquarters at Piedmont Triad International Airport. The approximately 90,000 square foot building will be completed next...
September 4, 2012 – Piedmont Triad International Airport (PTI) announced today PTI Fast Pass, a new express parking service for frequent travelers. PTI Fast Pass is available for garage and long-term parking lots and offers no ticket entry and exit, exclusive drive...
Big event at PTI Thursday, September 6th from 4 to 6 p.m. when Allegiant Airlines brings its Vote for Vacation Bus Tour to the airport's south end metered parking area. This will be an outside event with free parking. So come on out and vote for your favorite vacation and get a chance at some great prizes. You may be selected for free travel on Allegiant Airlines. Get more details at VoteForVacation.com.
Click here for the proposed variance submitted to the Watershed Review Board for the Piedmont Triad Airport Authority.
(August 7, 2012) Frontier Airlines today announced new nonstop service between Orlando, FL and Greensboro, NC beginning November 17 with three weekly nonstop flights…(Read More)
Piedmont Triad Airport Authority Chairman Henry Isaacson gave a check for $20,000 to a representative of the Leukemia and Lymphoma Society of the Triad at the Airport Authority's board meeting on Tuesday, July 24. The money was raised during the third annual 5K on the...
June 12, 2012 - Test your knowledge of New York City by entering PTI's WizQuiz! You could win TWO ROUND-TRIP TICKETS from PTI to JFK, the newest destination served by Delta Air Lines. To enter click on WizQuiz Contest at the top of PTI's Facebook page. Good luck!
May 2012 - We are experiencing passenger increases at PTI.  The long term parking garage is still under construction.  The TSA is in the process of upgrading their equipment on both the north and south screening points. Because of all of these factors passengers...
May 2, 2012 -Starting June 7th, Delta Airlines will begin daily non-stop service from PTI to New York's JFK. Flights depart PTI at 4:57 p.m., arriving at 6:50 p.m. offering excellent connections to European and Far East destinations. Return service will depart JFK at...
April 14, 2012 - Starting today, travelers using Piedmont Triad International Airport (PTI) will have access to free wireless internet service throughout the airport. This is the latest amenity to be offered at PTI as part of an approximately $9 million facility...
The 3rd Annual 5K on the runway will be held on June 2, 2012 on runway 5L/23R.  This run benefits the Leukemia and Lymphoma Society.  Please come out and have a fun day on the runway!  You can register on line at  Sign Me up
January 30, 2012 - Many changes have taken place over the last several months at PTI.  Phase 2 of the Landscaping project has been complete and this spring the airport is going to have a great new look.  The new furniture with charging stations has been installed on...
January 27, 2012 - The familiar furniture at Piedmont Triad International Airport will soon be serving a new purpose thanks to Greater Greensboro Habitat for Humanity. As part of its effort to create a top-notch passenger experience for travelers using Piedmont Triad...
There will be a C5 doing some touch and go's today (November 29, 2011) between 1130-1400.
November 6, 2012 - HolidayTravel Tips Before Packing Quart sized zip top bag (Hint: 1 bag per passenger is permitted)  3 ounces or less sized containers of liquids, gels and aerosols (3-1-1) Visit TSA's website to review the prohibited items list for both carry-on and...
An RFP is posted regarding the purchase of Noise Monitoring Equipment
Effective today, 01Nov11 Continental and United are now consolidated to one location in Greensboro.  The ticket counter and gates are now located on the North side (the side that CO has been located).  United has moved their operation for a joint – co-location.
You might want to allow a little extra time for parking between now and the end of the year.  The tunnels from the long term lots to the terminal building are under construction.  Detour signs will direct you as to which tunnel is open.
PTI now has more options for passengers.  Clear Channel Communications, the airports advertising vendor, has provided the Airport Ambassadors with iPads that will be used to further enhance the passenger's flying experience. The iPads are equipped with FLYsmart. ...
The newly renovated Chapel at Piedmont Triad International Airport re-opened today. Thank you to all the staff members who worked hard to get this job completed. This room is used for personal meditation and prayer and we are proud to have it for the travelers passing...
Currently Delta has 3 mainline flights to Atlanta out of PTI.  Beginning June 9, 2011 they will add a 4th mainline to Atlanta and on July 1 they will add a 5th. We are very excited about Delta bringing back mainline service at PTI, said Henry Isaacson, Chairman,...
Two Addendums to the RFP for Noise and Operations Monitoring System have been placed on this site.  Click above to see the links.
The Piedmont Triad Airport Authority has issued an RFP for a Noise and Operations Monitoring System.  Click here for more details.
The airlines serving Piedmont Triad International Airport are experiencing some cancellations and delays.  Please contact your airline for flight information or check our flight status page.
The Piedmont Triad Airport Authority ("PTAA" or "the Authority") is hereby providing an opportunity for the public to comment on its intent to impose and use a Passenger Facility Charge ("PFC") at the Piedmont Triad International Airport ("PTIA" or "the Airport.")  The proposed PFC application will be for reimbursement of eligible un-reimbursed costs of three projects
Click on the link above to find out some of our spring travel tips.
Triad Flight Of Honor on Saturday, October 30, 2010 please come out and help us welcome home our Veterans.
American Eagle Airlines, the regional affiliate of American Airlines, announced an additional nonstop flight between Miami International Airport (MIA) and Piedmont Triad International Airport (GSO) beginning Nov. 18.