Fire & Police Departments
For fire or EMS emergencies, call 911.
Piedmont Triad International Airport Fire Department
The responsibilities of the firefighters who work at Piedmont Triad International Airport (PTI) include firefighting, emergency medical services, aircraft rescue, and response to other emergencies as needed. The airport's firefighters also perform daily inspections as required by the Federal Aviation Administration (FAA). PTI firefighters are highly specialized professionals who are trained to serve the traveling public's needs 24 hours a day and 365 days a year. The department is responsible for protecting the lives and property of the airport's customers, tenants and employees from natural and man-made hazards, medical emergencies and aircraft incidents. The fire department will answer hundreds of calls each year, many of which are minor in nature. PTI firefighters are certified EMTs and receive annual training to meet FAA requirements.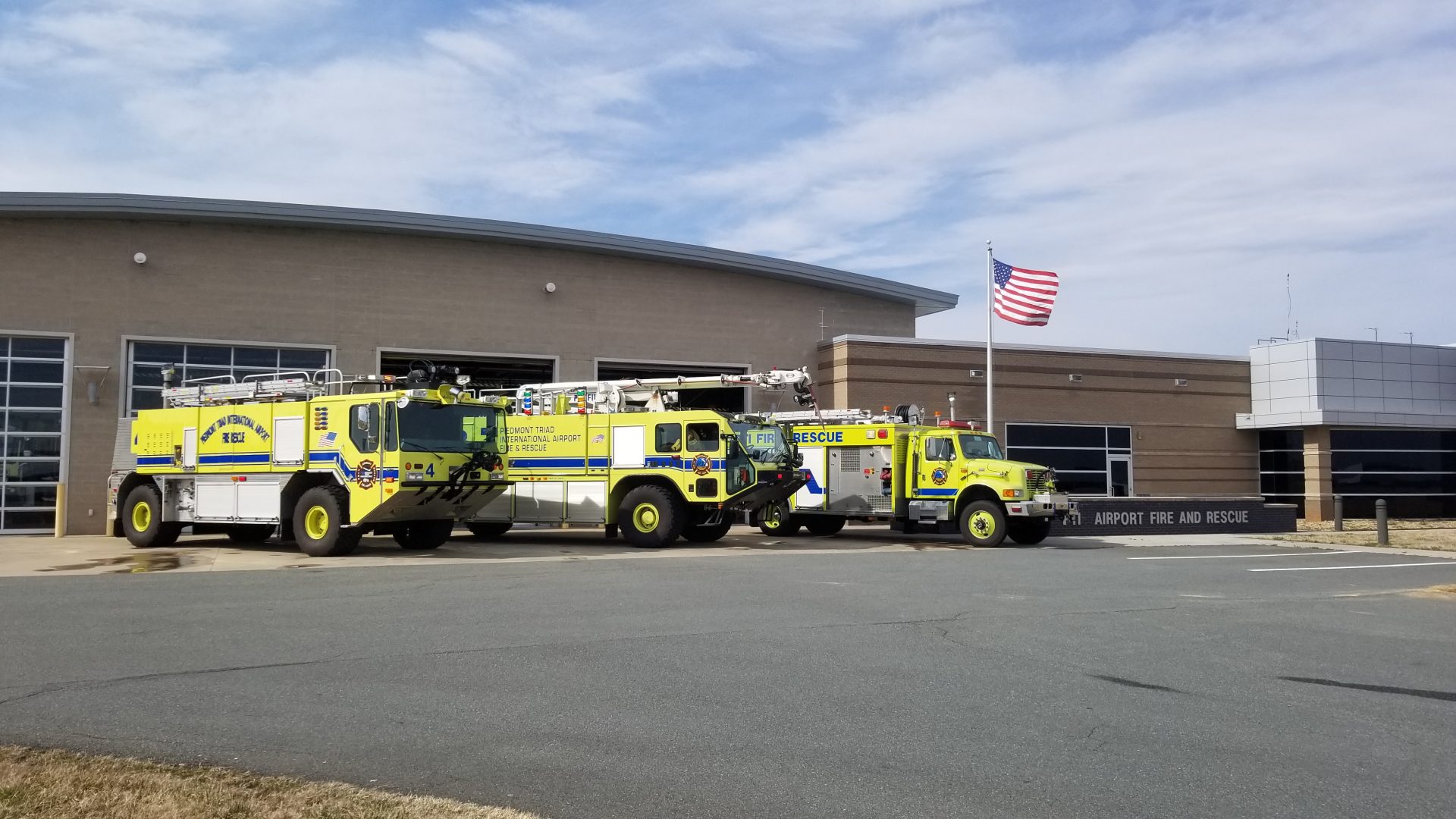 Piedmont Triad International Airport Police Department
PTI has a full-service Law Enforcement department (sworn and non-sworn) that operates 24 hours a day, 365 days a year. This includes a team of 23 full-time police officers, a fully-functioning communications department, and specialized units such as K-9, Criminal Investigations, Bike Patrol, and Rifle Patrol.
The airport's officers are fully trained and certified as sworn police officers in the state of North Carolina and respond to any and all emergency situations. Officers also assist with routine information requests and customer service.
PTI Police Mission Statement:
The Piedmont Triad International Airport Police Department has the unique mission of providing a safe, secure environment for the traveling public, tenants, and fellow employees of the Piedmont Triad International Airport. It is the Airport Police Department's duty to protect the inherent rights of all persons objectively and equally while serving the needs of Homeland Security and Civil Aviation.
Statement from the PTI Police Chief:
"Our department and its officers will strive to be recognized as exceptional in the airport industry. The Piedmont Triad International Airport Police Department will constantly review its performance and guide its future through teamwork. The department will meet the needs of the passengers by closely following its mission and adhering to its values."