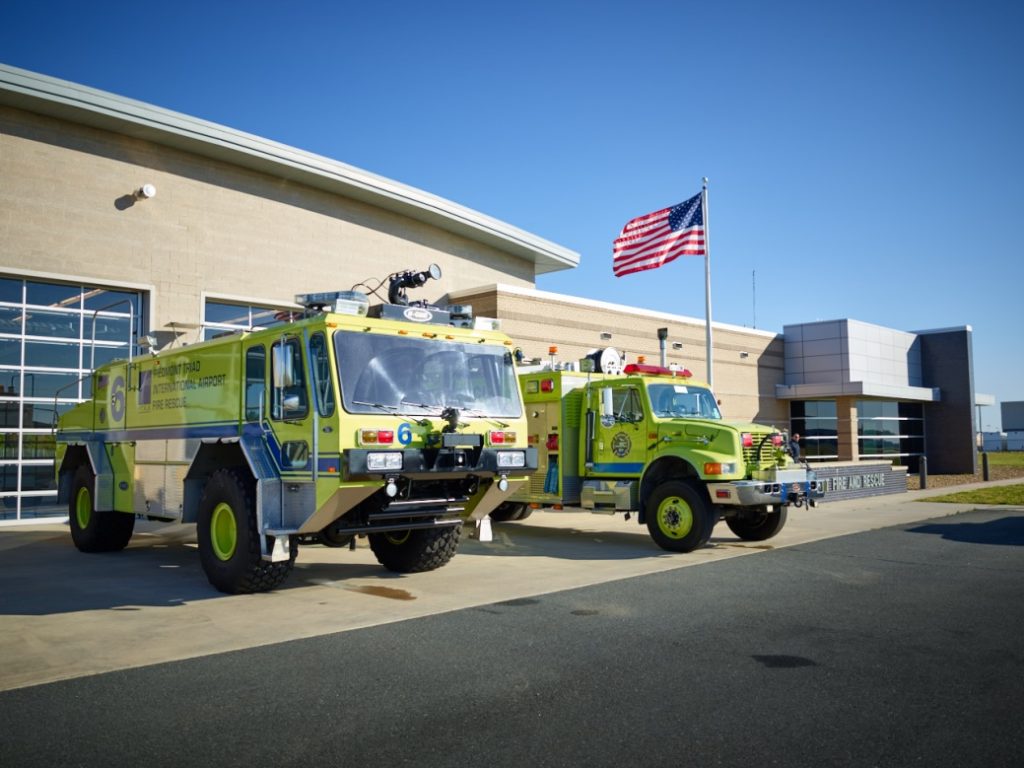 For this month's blog, we are diving in and exploring PTI's Aircraft Rescue and Fire Fighting unit, which operates on-site at the airport. Firefighting work at an airport is quite different than typical fire departments, so we wanted to share with you some ways in which our unit is unique!
How are ARFF Units Different from other Fire Departments?
PTI's Aircraft Rescue and Fire Fighting (ARFF) unit's primary purpose is to respond to aircraft mechanical or electrical fires or medical emergencies that may occur onboard. They are responsible for the safety of any aircraft operating at this airport. They are not the primary responders to terminal fires or any fires that occur in a building on airport property, but will assist the Greensboro Fire Department during such emergencies if needed. As first responders, they are also responsible for protecting evidence at the scene of an aircraft accident/incident.
ARFF Unit Personnel
The ARFF unit at PTI is comprised of one Chief and fifteen firefighters. Five firefighters per shift work 24 hours on duty, 48 hours off duty (subject to callback if needed). The Fire Department is manned 24/7, 365 days by PTAA firefighters. All firefighters are required to be certified as North Carolina/International Fire Service Accreditation Conference Level 2, which means the Fire Fighters have to meet a high level of training as well as several years of experience. Their training records and years of certified fire experience are reviewed and if deemed acceptable, they are credentialed as NC IFSAC firefighters. Our firefighters must also possess a valid NC EMT certificate and they also receive approximately 24 hours a year of EMT training.
We are PROUD to say our airport ARFF firefighters have over 235 years combined fire service experience, with 3 members having served or still serving as Aircraft Rescue Fire Fighters in the U.S. Air Force.
ARFF Unit Vehicles and Equipment
Our ARFF is FAA Index C Fire Department. Index is based on size of largest regularly scheduled passenger aircraft. As an Index C Fire Department, our unit is required to have 3000 gallons of water and 400 gallons of firefighting foam on their trucks. There are three ARFF vehicles responsible for Aircraft Crash Rescue Fire Fighting, Emergency Medical Response, and Airfield Operations.
The primary vehicle used by our ARFF unit is a rapid response vehicle that carries 300 gallons of water, 70 gallons of foam, 500 lbs. dry chemical and a full line of vehicle/aircraft extrication equipment, a large assortment of rescue tools, medical supplies and an AED (Automatic External Defibrillator). This vehicle is manned by 2 firefighters/EMT's.
The secondary vehicle is a full size ARFF vehicle carries 1500 gallons of water, 200 gallons of foam, and 460 lbs of halotron, which is a clean fire-fighting agent used on sensitive electronics as well as aviation fuel fires. This vehicle is manned by 1 or 2 people depending on personnel availability.
The third vehicle is another a full size ARFF vehicle that carries 1500 gallons of water, 200 gallons of foam, and 500 pounds of dry chemical which is used on aviation fuel fires.
ARFF's Airfield Safety Duties
The unit also supports airfield operations by conducting regular airfield inspections. During these inspections, they check the approach slopes of each runway end, inspect movement and safety areas to monitor conditions, observe ground vehicle operations, assist PTI's USDA Wildlife agent in wildlife recognition and observation, and check the traffic and wind direction indicators so that aircraft are able to operate safely.
They also assist in evaluating runway/taxiway and apron lighting and signage, pavement marking, airport beacons, wind cones, and lighting to ensure that the airport remains in compliance with FAA regulations.
Other duties include inspection of fuel farm and mobile fuelers, checking airport files for documentation of their quarterly inspections of the fueling facility, and reviewing certification from each tenant fueling agent about completion of fire safety training.
Emergency Preparedness
The ARFF unit conducts timed-response drills to ensure they are prepared for any emergencies that may arise. They frequently review aircraft rescue and firefighting personnel training records, records of the annual live-fire drill that they participate in, and documentation of basic emergency medical care training. They also frequently check equipment and protective clothing to ensure they are functional, in good condition, and available in case of emergency.
As you can see, our ARFF unit does a very important job in keeping the airport running safely and smoothly.
We thank our firefighters for all they do every day at PTIA.