The Piedmont Triad Airport Authority is developing a comprehensive initiative called "PTI PREPARED" to help protect the safety of its current passengers, guests and employees during the COVID-19 pandemic, and to be prepared for the days when passenger traffic at the airport begins to increase.
"No one knows exactly what air travel will look like in the next two weeks, the next two months, or even the next two years," said Kevin Baker, the airport's executive director.  "Airports will need to be flexible and ready to respond to changing requirements and changing demands.  The safety and well-being of our passengers, employees and airport partners is our top priority."
The initiative combines institutionalizing current safety practices such as deep cleaning and disinfection, social distancing, and sanitizer stations, with consideration of possible long-term changes at the airport – such as the re-arrangement of furniture in waiting areas to increase the distance between passengers.
Branded signage will soon be appearing in the airport terminal reminding people to keep safe distances, to wash their hands frequently and to follow the Centers for Disease Control (CDC) guidance on face coverings. Guidance for passengers will be updated on the airport's website reflecting changes instituted by the CDC, state and municipal governments.
The program recognizes that the COVID-19 virus will have lasting impacts on how the airport does business and that the pandemic will require a focused and continuously nimble response. The PTI PREPARED initiative will be implemented by a dedicated internal team.
"We know that we will need to continue to adapt to the changing environment as more passengers return to the airport, we know that we will need to be well-informed about the disease and the best ways to prevent its spread, and we know that we will need to communicate effectively with our passengers, our tenants and our staff," Baker said.
"The PTI PREPARED team consists of representatives from all departments who have been tasked to focus on this effort," said Paul Mengert, chairman of the Piedmont Triad Airport Authority. "AT PTI we understand air travel norms are changing and will evolve over the next few months. PTI leadership is actively studying ways to make travel to and from PTI as safe as possible, convenient and "easy" for travelers."
The PTI PREPARED initiative is an extension of the work the airport has already done in response to the pandemic. From the earliest days of the Coronavirus pandemic, the Airport Authority has been proactive in its response to the disease. The Airport Authority has taken the following actions in response to the pandemic:
Intense and detailed cleaning, including fogging, of airport facilities on a daily basis;
Detailed cleaning of high traffic "touch points," such as handrails on escalators, buttons on elevators, door handles, baggage claim areas and gate area seating;
Installation of additional hand sanitizer stations for passenger use throughout the terminal building;
Installation of spacing indicators in security lines;
Addition of signage in high traffic areas reminding passengers of best practices to stay healthy and to practice social distancing; and
Installation of plexiglass shields at information booths, rental car counters and in TSA screening lines.
Patrons and employees should follow the guidance of the CDC, which recommends wearing a face covering in public places. In addition, those dropping off or picking up passengers are discouraged from entering the terminal building and encouraged to stay in their cars.
Passengers are encouraged to use mobile applications for check-in when possible and to limit luggage to carry-ons.
"We are putting protective measures in place in response to a public health issue that appears to be long-term," Baker said. "This is unfamiliar territory for all of us. We intend to be prepared for whatever comes our way."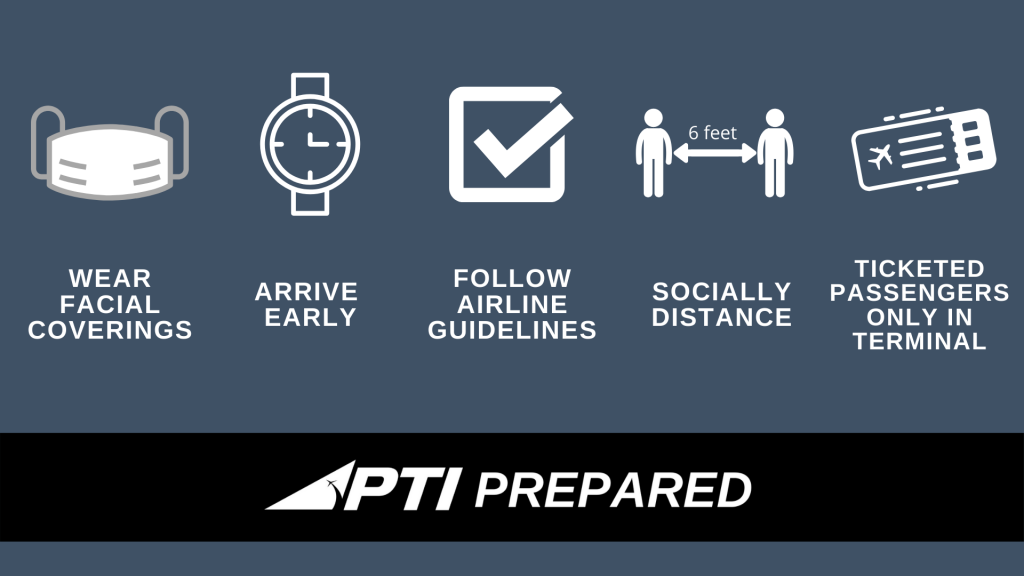 Guidelines for Visitors to Piedmont Triad International Airport
In response to the health risk posed by the COVID-19 pandemic, the Piedmont Triad Airport Authority would like visitors to the airport to comply with the following guidelines:
Face Coverings: All airport passengers and guests should follow the Centers for Disease Control (CDC) guidelines and should wear face coverings while inside the terminal building unless a face covering would be inappropriate due to the age of a child or a medical condition.
Arrive Early: Passengers should plan to arrive at the airport well in advance of their departure times to help prevent crowding caused by last-minute rushing before scheduled flights.
Limit Touchpoints: Travelers should check with their airline on luggage recommendations and use mobile boarding passes.
Social Distancing: Passengers should maintain a six-foot or greater distance from non-household members in all areas of the airport including gate seating.
Non-Passengers: Those picking up or dropping off passengers should not enter the main terminal; instead they should use the short term parking in front of the main terminal, stay in their vehicles and communicate by cell phone unless they are assisting unaccompanied minors, passengers with disabilities, or others who need assistance.
The Airport Authority appreciates your compliance with these guidelines.