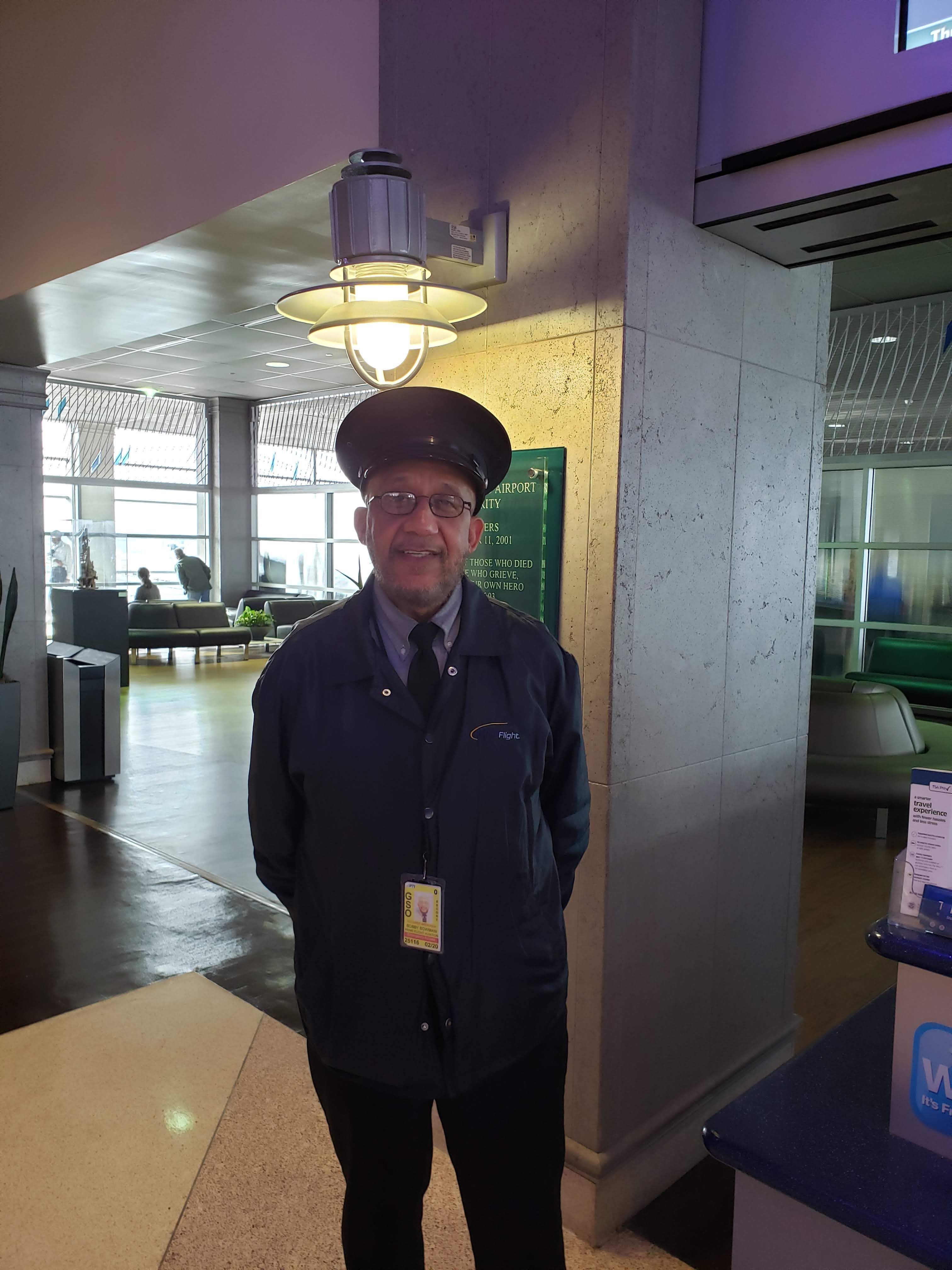 This month, the Piedmont Triad Airport Authority would like to spotlight an exemplary employee – Bobby Bowman. Bobby has worked at PTI as a skycap for a total of 39 years. For the past 19 years, he has worked for a company called PrimeFlight, which offers skycap and wheelchair assistance services for the various airlines that serve PTI.
Some travelers might remember the days when skycaps waited out on PTI's curb to check-in passengers for their airlines. While curbside check-in is no longer present at PTI, skycaps like Bobby remain crucial airport employees because they offer essential assistance to special needs passengers throughout their time in the airport – from check-in to the airplane.
Bobby is known for his smile, friendly demeanor, and excellent customer service. Over the years, he has received countless praises from the passengers that he has helped. Below is a segmented testimonial received by the Airport Authority from a grateful passenger, Lola Elliott-Hugh:
On Friday, February 1, 2019, I flew with my 91-year-old mother, from Connecticut to Greensboro ….When we landed in Greensboro, at the PTI airport, we were greeted by the kindest and most amazing skycap/escort, by the name of Bobby. He saw us safely through the process of getting our luggage, checking in at the rental car counter, and then he made sure we made it safely all the way out to our rental car. Amazing service! He was cheerful and pleasant in every way.
Tuesday mid-day we arrived back at PTI airport. Guess who was waiting at the door for us?! BOBBY BOWMAN! There he was –smiling…reaching out to assist us as we gathered our walker, suitcases and carry-ons from the rental car…Bobby checked us right in, he had remembered our names (!) and then he whisked us through security and to our gate in the terminal. WHO PROVIDES THIS KIND OF AMAZING-GRACE SERVICE ANYMORE?
His service style and skills are amazing – and of course – he possesses that certain kind of intuitiveness that almost can't be taught. What a lovely, dignified, cheerful, kind, instinctual, sensitive, gracious, respectful and delightful person.
Lola's experience is just one example of the service that Bobby provides to PTI passengers every day. When asked about his favorite part of his job, Bobby says, "Relating to the passengers. I love being recognized by passengers that I've helped and making people's day with my smile."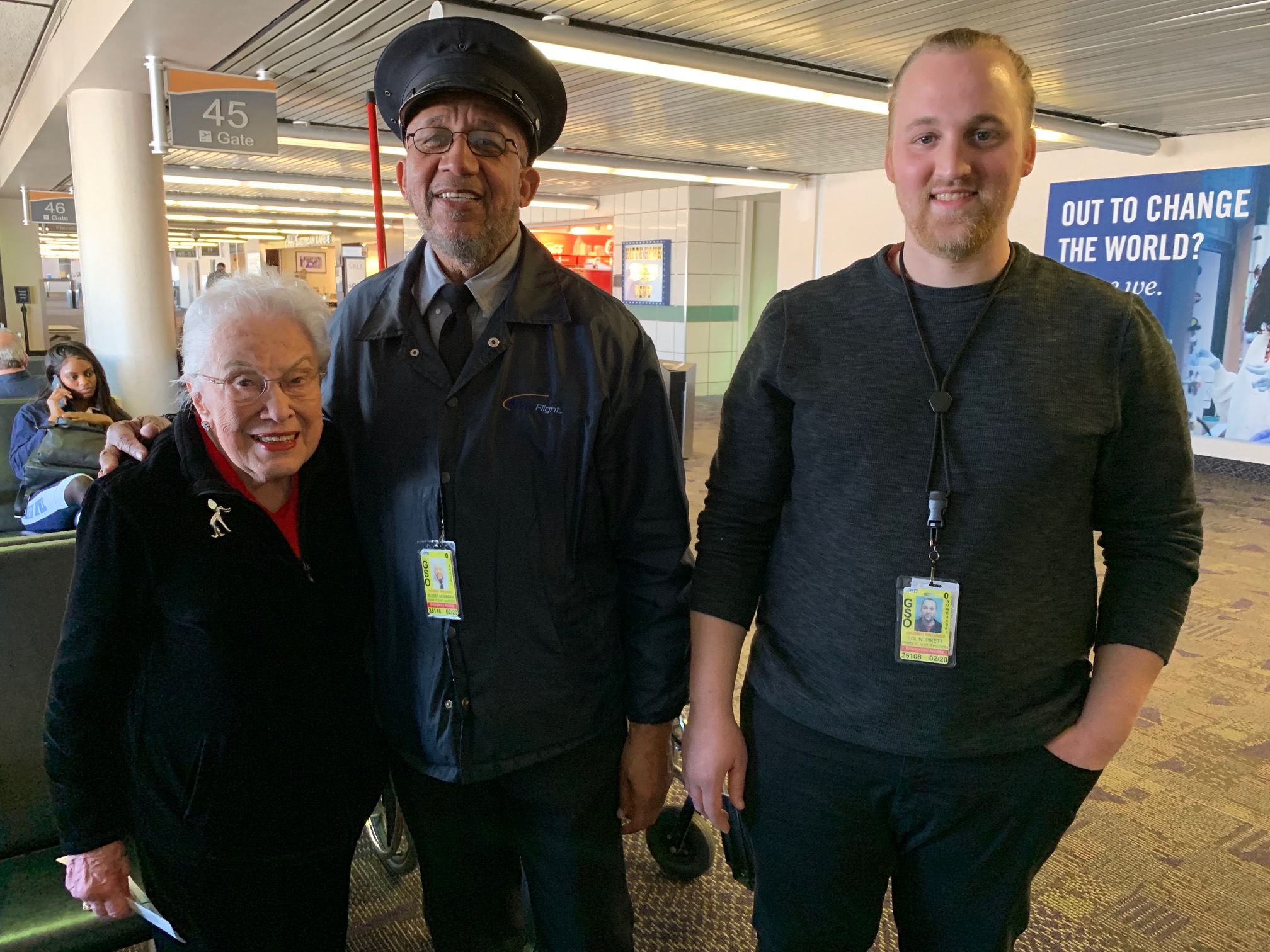 Bobby is particularly liked by his repeat passengers, and his attention to and memory for detail is certainly noteworthy. Bobby shared the importance of making sure that the passengers that he helps really remember him.
For those who work in customer service, Bobby has a few suggestions. "Be friendly, and always greet the customer. Try not to bring your baggage from home to work with you. Sometimes the person who walks through the door will be the one who makes your day better. It is important to be open to that experience." 
Excellent advice from someone who definitely knows what customer service is really all about. Thank you, Bobby, for your many years of service to PTI!