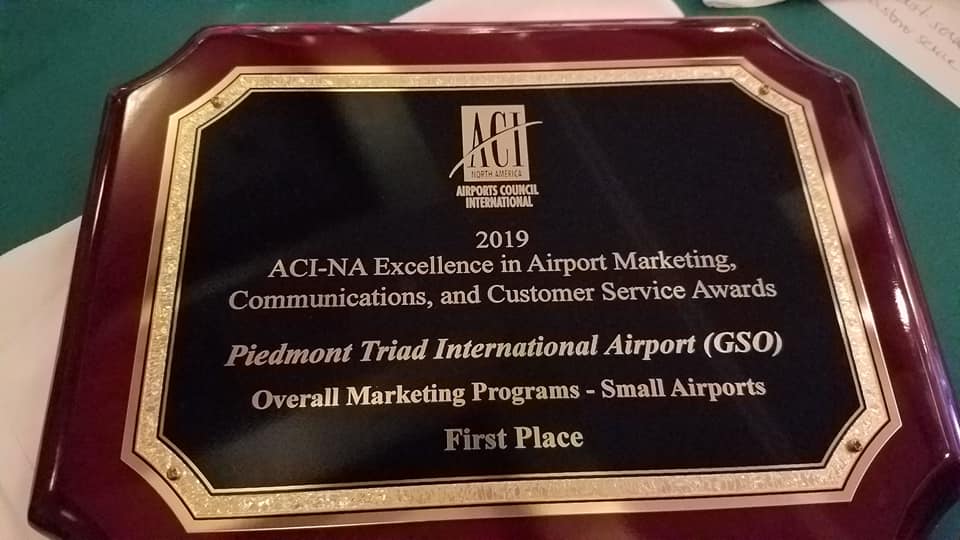 Piedmont Triad International Airport was awarded top prize for Overall Marketing Programs among small airports at the 2019 Airports Council International-North America (ACI-NA) Marketing and Communications Conference held in Miami November 7.
"This prestigious award acknowledges the creative energy and hard work that our marketing staff puts in every day," said PTI executive director, Kevin Baker. "We are proud that their professionalism and effectiveness have been recognized by this high-profile organization."
The ACI-NA award recognizes excellence in overall approaches to airport marketing and promotions by defining a product or service and creating a strategy for communicating a message that will produce growth at the airport, according to the organization's description.
PTI was recognized for its 2019 "Fly Easy" campaign, which included passenger testimonials, a billboard campaign, magazine advertising and partnerships with local arenas and sports franchises to highlight the "Fly Easy, Fly from PTI" message.
"By partnering with local organizations, we have been able to get our message out into the community," said Stephanie Freeman, Marketing and Customer Service Manager for the airport. "We want our passengers to know that we appreciate them and that we want their experience at our airport to be the very best."
The award is given in three categories: Large Airport, Medium Airport, and Small Airport. The 2019 winners for Overall Marketing Programs are Chicago O'Hare International Airport (large airports), Milwaukee Mitchell International Airport (medium airports), and Piedmont Triad International Airport (small airports).
"Our industry's ability to tell the dynamic and compelling story of airports is extremely important to helping us advance as an industry," said ACI-NA President and CEO Kevin M. Burke.
"Airports like Piedmont Triad International Airport are going above and beyond in connecting with their passengers and amplifying their message about the airport's essential role in their local communities. ACI-NA is delighted to applaud the innovative work and the talented individuals who are telling our industry's story."