On September 27, at Piedmont Triad International Airport, 101 US military veterans were given a ceremonial sendoff in the morning and a hero's welcome home that evening. Their mission that day? To go see the military monuments in Washington, D.C., courtesy of Triad Honor Flight.
The original Honor Flights started in 2005 to help World War II veterans see the then-new World War II memorial in Washington D.C. The organizers realized it would be difficult for the aging veterans to make it there, so arranged free flights for them, with a guardian for each vet. The September 27 Triad Honor Flight accomplished that mission for two World War II Army veterans, Frank Myers and John Cauble. Both men helped lay a wreath at the Tomb of the Unknown Soldier in Arlington National Cemetery and led the veterans through the packed, cheering crowd at PTI welcoming them home.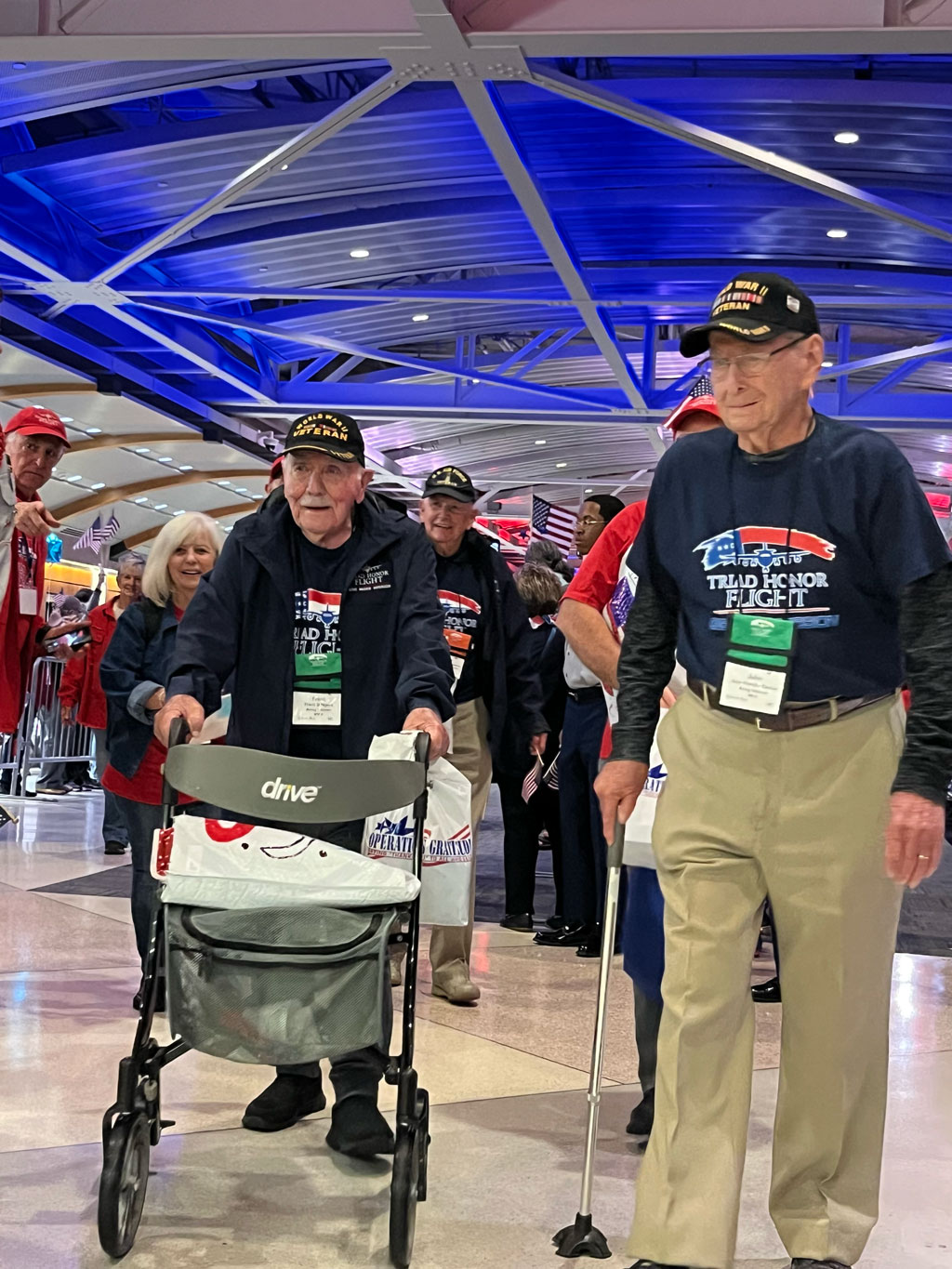 Triad Honor Flight now serves all veterans ages 65 and up. Marine Corps, Army National Guard, and Army Reserve veteran Cheryl Oliver (Sue) praised the organization, "Everything was just done to a T. I can't say enough about Triad Honor Flight. It's like herding cats, getting us on and off the buses, on and off the plane." While in the Marines, Oliver was the Commanding Officer of 81 women Marines at Camp H.M. Smith in Hawaii. Oliver also helped lay the wreath at Arlington National Cemetery, where her husband is buried.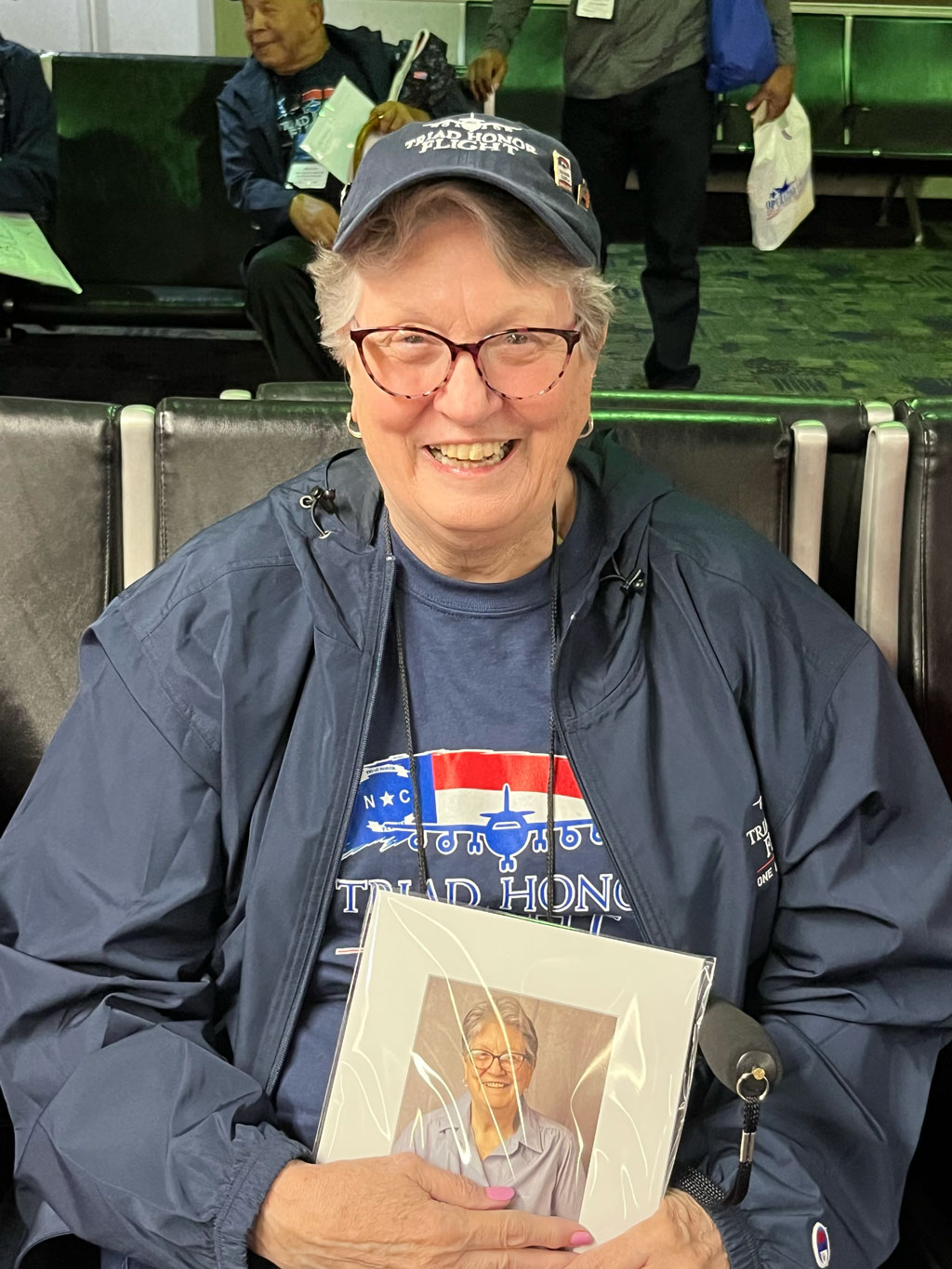 The fourth wreath-layer, Army vet Terrence Lewis, said he was very proud to be in the service. He ran the airport in Panama during Operation Just Cause, and said the Panamanians had left a message for them there: "American soldiers, where have you been? We've been waiting for you for so long."
Lewis's father, Korean and Vietnam War Army vet Willie Lewis, also took the flight. He said the best part of the trip was "The welcome home. Something we never had. It was well done."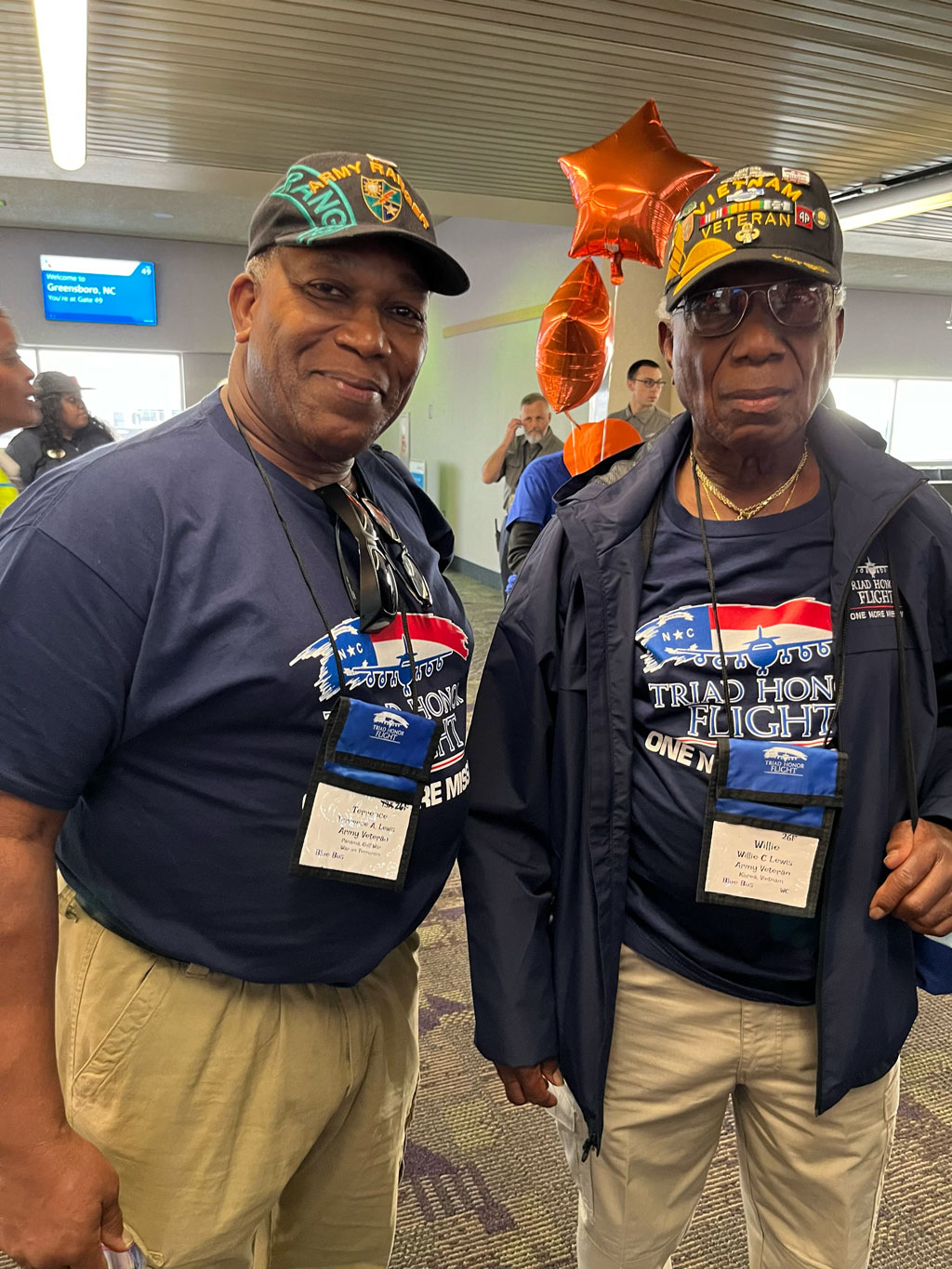 Four generations of family members welcomed Korean War Air Force Vet Melvin Nitkin (Nick). And another family member, grandson Joshua Scott, drove two hours to surprise his grandfather at the Washington, D.C. airport, and serve as Nitkin's guardian for the day. Besides his service in Korea, Nitkin was on standby during the Cuban Missile Crisis, ordered to have a suitcase packed and ready to go in case the crisis was not resolved.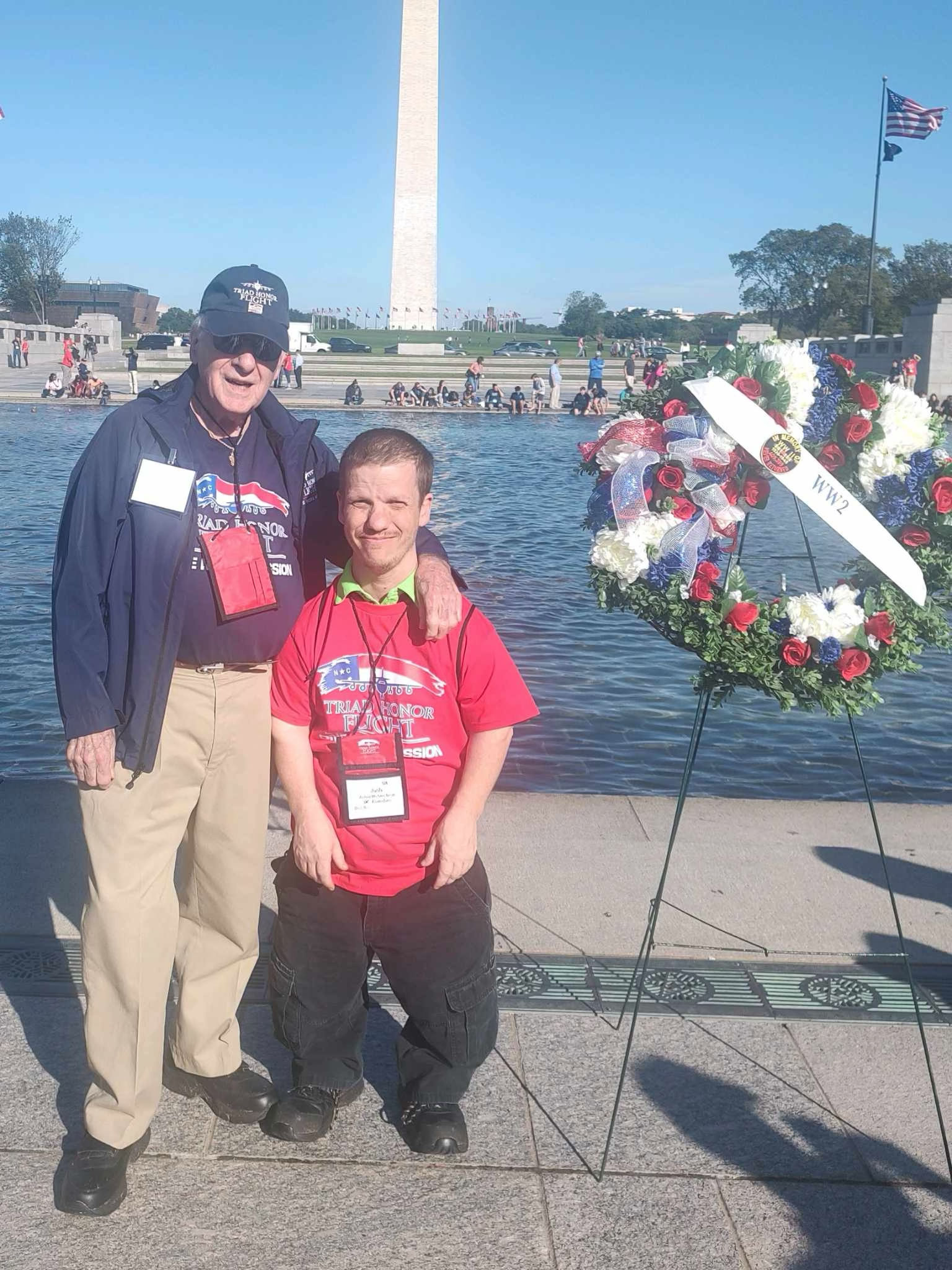 90-year-old Army vet Arnold Powers was about to ship out to Korea when that war ended. Margaret Powers, his wife of 75 years, said Powers didn't sleep the night before the Honor Flight because he was so excited.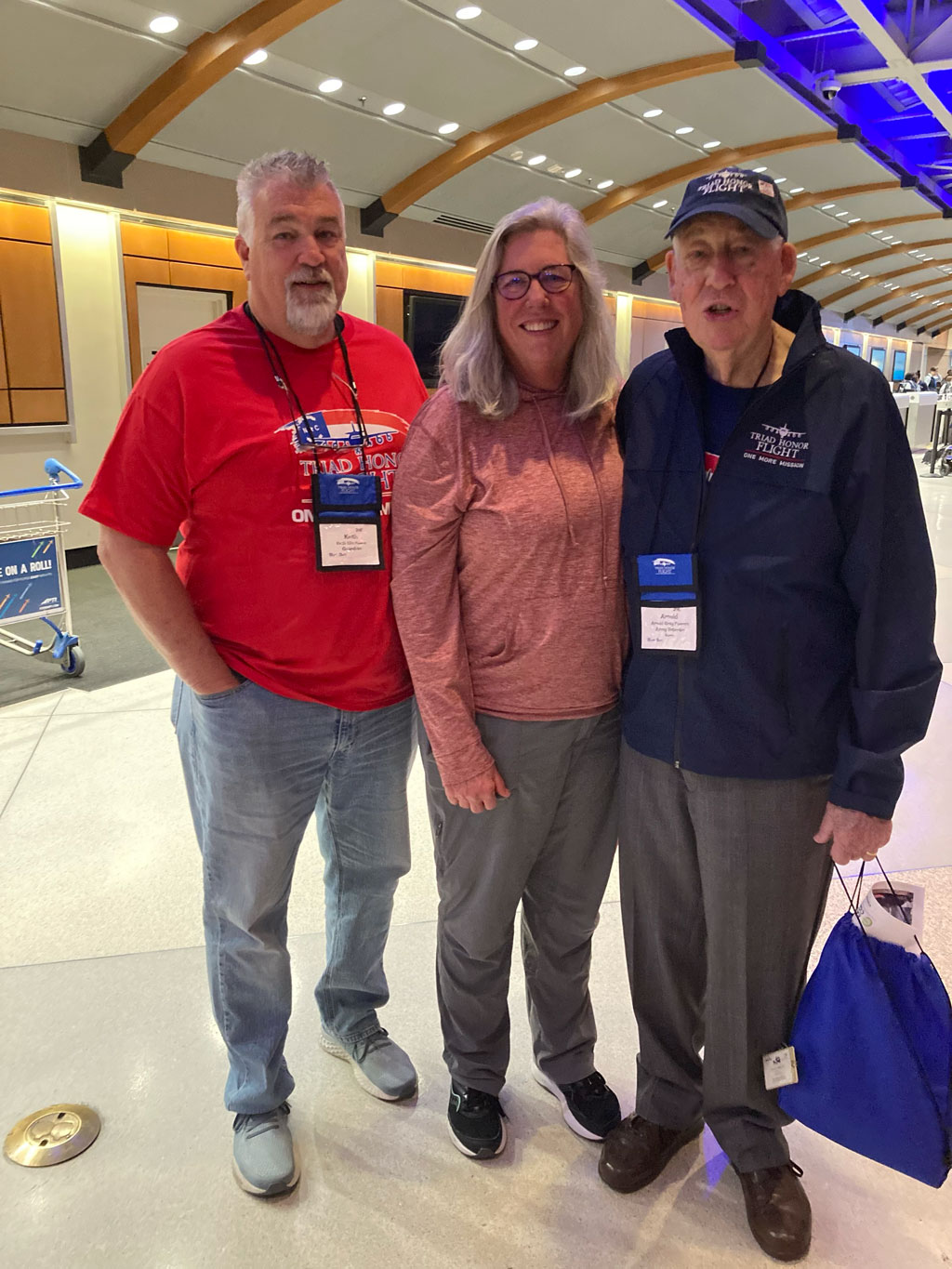 Vietnam War Navy vets Marvin Moore (MK) and James Tedder, Jr. (Jimmy) took the flight together…the same way they took a flight together out of Raleigh in 1962 to their first Navy service. That flight was delayed. The men had not yet met, but during the delay Tedder came up to Moore, introduced himself, and said he had a sister around the corner, so they could go wait there. The men served together as gunners on the USS Tioga County, carrying the US Army 101st Airborne up the Saigon River.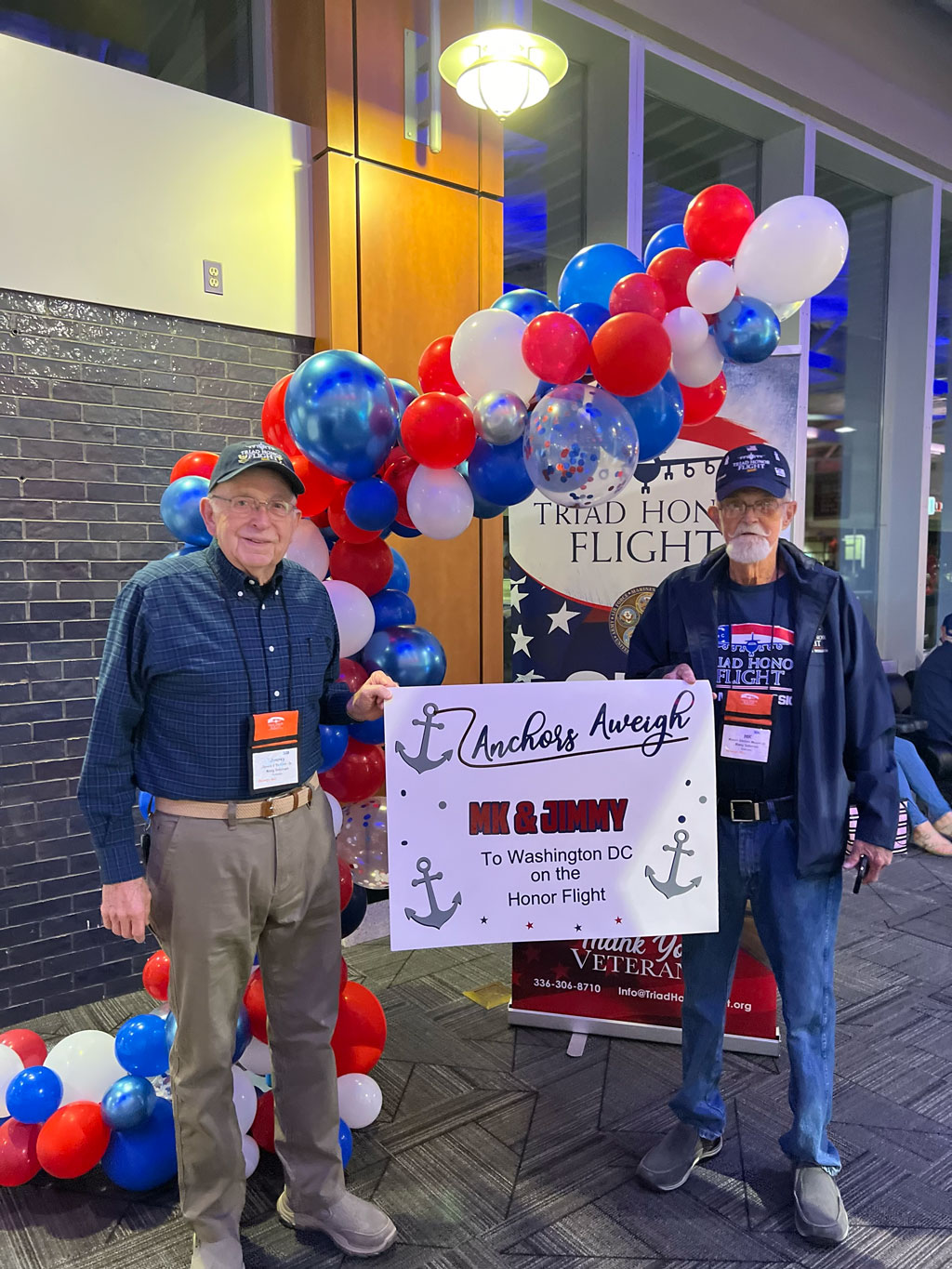 Marine Corps Vietnam vet Wally Estes was awarded the Purple Heart after being shot and blown up while a Squad Leader in Vietnam. He said he enjoyed everything about the Honor Flight trip. "I took it all in."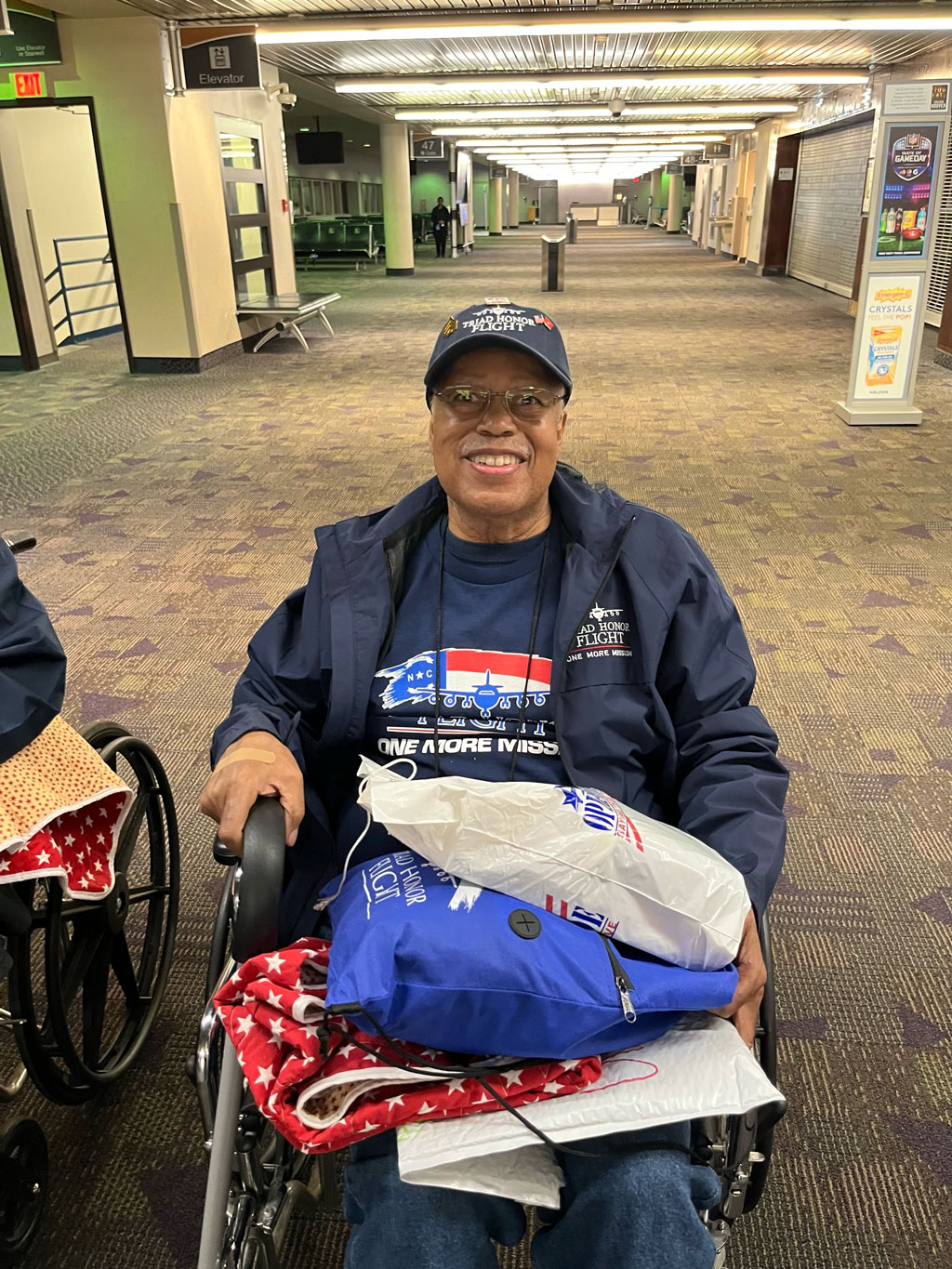 The huge crowd at PTI waiting to cheer for the returning veterans included bagpipers, an honor guard, numerous student groups, "Uncle Sam," and "Wonder Woman." Elizabeth Quarandra posed with Wonder Woman while waiting to welcome her husband, Army Vietnam vet Tony Quaranda.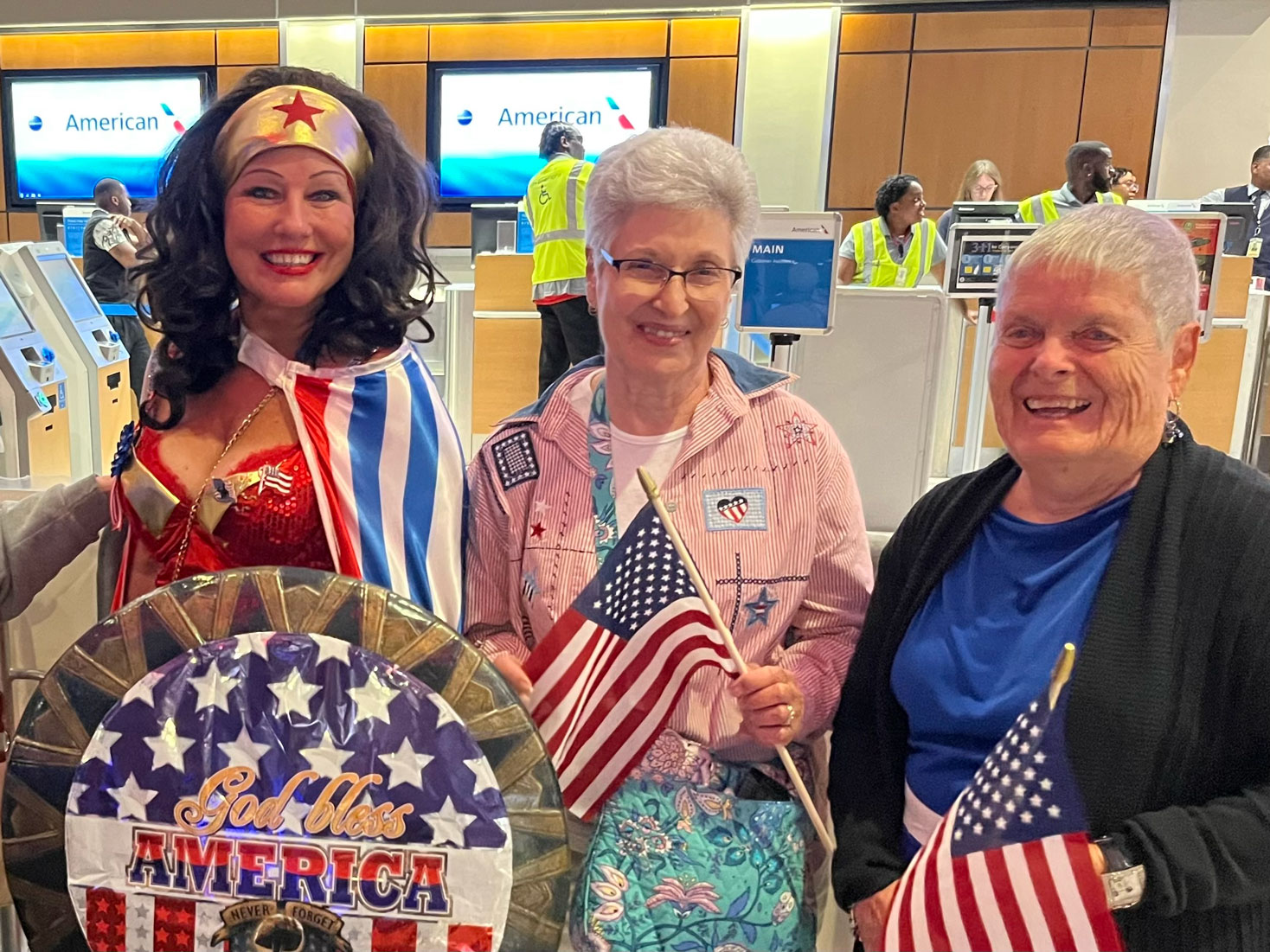 The vets and their families thanked and praised Triad Honor Flight. The nonprofit's Executive Director, Alison Huber, praised PTI's contribution to the flights, including everything from setup to free parking to crowd management. "Without the support of PTI, this would not be feasible. They work overtime. They're just incredible."
The September 27 flight was Triad Honor Flight's fifth flight from PTI.