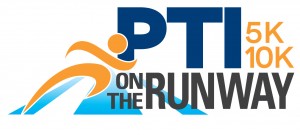 The PTI Run on the Runway 5K/10k will be held on June 6, 2015 on the airport's 9,000 foot runway. This certified run will benefit The Second Harvest Food Bank of Sorthwest NC, Greensboro Urban Ministry and OPen Door Ministries of Hihg Point. All are invited to come out to run/walk the runway. The 5K/10k on the runway provides a smooth and flat surface. The entire race course will provide a close up view of the airport and surrounding area from the airfield. The course is wheelchair accessible and baby stroller friendly. Given the secure location of this run and for safety reasons, bikes, roller blades and inline skates will not be allowed. Dogs and other pets are strictly prohibited.
Registration
Registration is now open. Don't delay. Make sure to register early to save $$ and guarantee your race shirt… you are one click away! All our events are family friendly and typically have something for everyone.
Race Results
We make it easy to see how you did. All race results will be updated on race day and we typically have a race photographer who will be on-site at each event to capture the action.
Race Course
This is the perfect course for friends and family to cheer you on! Both courses run on the flat, smooth 9000 foot PTI runway. It's a great opportunity to run on a closed course that available just once a year.