Traveler Services
PTI wants to make your time at our airport as convenient as possible. Whether you are traveling for business or pleasure, we offer plenty of services to help make travel easy. If you have questions about how we can make your visit a good one, contact us at 336-665-5600.
Lost and Found
If you have lost something in the airport terminal building you can call 336-665-5655 to speak to the lost and found office.  If you have lost something on your flight to/from GSO you need to check with the airline.  For items lost at the TSA checkpoint you can call 336-931-9607 or email [email protected].
Conference Rooms
PTI's conference rooms are located on the lower level next to the baggage claim area. Designed to accommodate up to 20 people and priced at $50 for four hours or less and $100 for anything over four hours, the room is the ideal place for meetings. Call 336-665-5600 to book your room today.
Equipment available:
Dry erase board
 Flip charts
Television
VCR
Wifi (in certain rooms)
Equipment not available:
Restaurants
An entirely new set of restaurants is open for travelers to enjoy at Piedmont Triad International Airport (GSO). Global restaurateur HMSHost was awarded a 10-year contract valued at more than $50 million to operate the airport's six dining spaces. HMSHost is the new operator of the existing restaurants and has transitioned them into new dining concepts. They accept cash, card, and Apple Pay.
PGA TOUR Grill (MAIN TERMINAL – OPEN 10AM-6PM) is a restaurant HMSHost developed in partnership with the PGA TOUR, combining the beloved sport of golf with great food. "Eat Smarter, Play Harder" is the motto of the PGA TOUR Grill and the menu's healthy choices promote an active lifestyle. The atmosphere is inspired by the PGA TOUR and highlights the rich history of golf, fitting considering the airport's close proximity to the Wyndham Championship held in Greensboro and the Pinehurst Resort where so many tournaments are held. This is HMSHost's fourth PGA TOUR Grill airport restaurant location in the United States.
The Great American Bagel (MAIN TERMINAL – OPEN 5AM-6PM) is an award-winning bagel bakery and deli concept that uses the finest ingredients in steam-baking its famous, big fresh bagels from scratch on a daily basis. The bagels are the foundation of a delicious array of fresh menu items, from hand-packed cream cheese to deli sandwiches.
The Local @ GSO (NORTH CONCOURSE – OPEN 5AM until last flight of day) is Piedmont Triad International Airport's own unique rendition of this successful restaurant brand offered exclusively by HMSHost. The Local is all about taking homegrown ideas about food and culture and celebrating them in the airport to give travelers an authentic taste of the region upon arrival and departure. The Local takes the freshest ingredients from local farms, regionally significant recipes, and décor cues to ensure travelers feel they are a part of the city they're visiting.
A new ACC American Café (SOUTH CONCOURSE – by Gate 45 – OPEN 5AM until last flight of day) pays homage to the strong collegiate sporting culture of the region, a natural fit given the airport's situation in the center of North Carolina, the land of the Atlantic Coast Conference. ACC American Café gives travelers a place to cheer along with the fans in the stadium while they enjoy food created by HMSHost's culinary experts that elevates the flavor and overall sports venue experience. This is HMSHost's second ACC American Café in North Carolina with another at Raleigh-Durham International Airport.
Starbucks (NORTH AND SOUTH CONCOURSE – OPEN 4:45AM until last flight of the day) is the preferred choice for a passionately-brewed cup of whole bean coffee and a modern coffeehouse experience and will now be available for the first time to Piedmont Triad International Airport travelers.
Gift Shops
Forget your toothbrush, or just need something to read on the plane?  PTI's gift shops are stocked with gifts, souvenirs and all the little things that make your trip more convenient, including: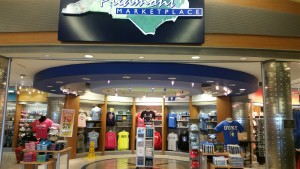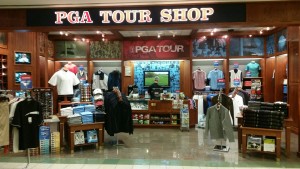 GSO Bookstore (MAIN TERMINAL): Wide array of books, news and souvenirs
Main News (MAIN TERMINAL): Extensive assortment of news and convenience items
PGA TOUR Shops (MAIN TERMINAL): Golf apparel and accessories
CNBC Gift Shop (NORTH CONCOURSE): Books, news, magazines and snacks, as well as an online station for checking the day's news.
Kitty Hawk News (SOUTH CONCOURSE – by Gate 45): News, magazines and convenience items in a setting that honors the First Flight.
Observation Room
There is an observation room in the terminal for passengers who wish to view planes taking off, landing, or sitting at the gates. This room is located on the upper level of the terminal, adjacent to the PGA Grill. Short term parking is available for 15 minutes per quarter at metered spaces.
Lactation Suites
There are two lactation suites that are available to nursing mothers who need a private place to pump or nurse. The rooms are located past security on each concourse. Each room is equipped with a chair and electrical outlet.
Foreign Currency
There is no currency exchange in the terminal.  Some local banks can accommodate account holders.