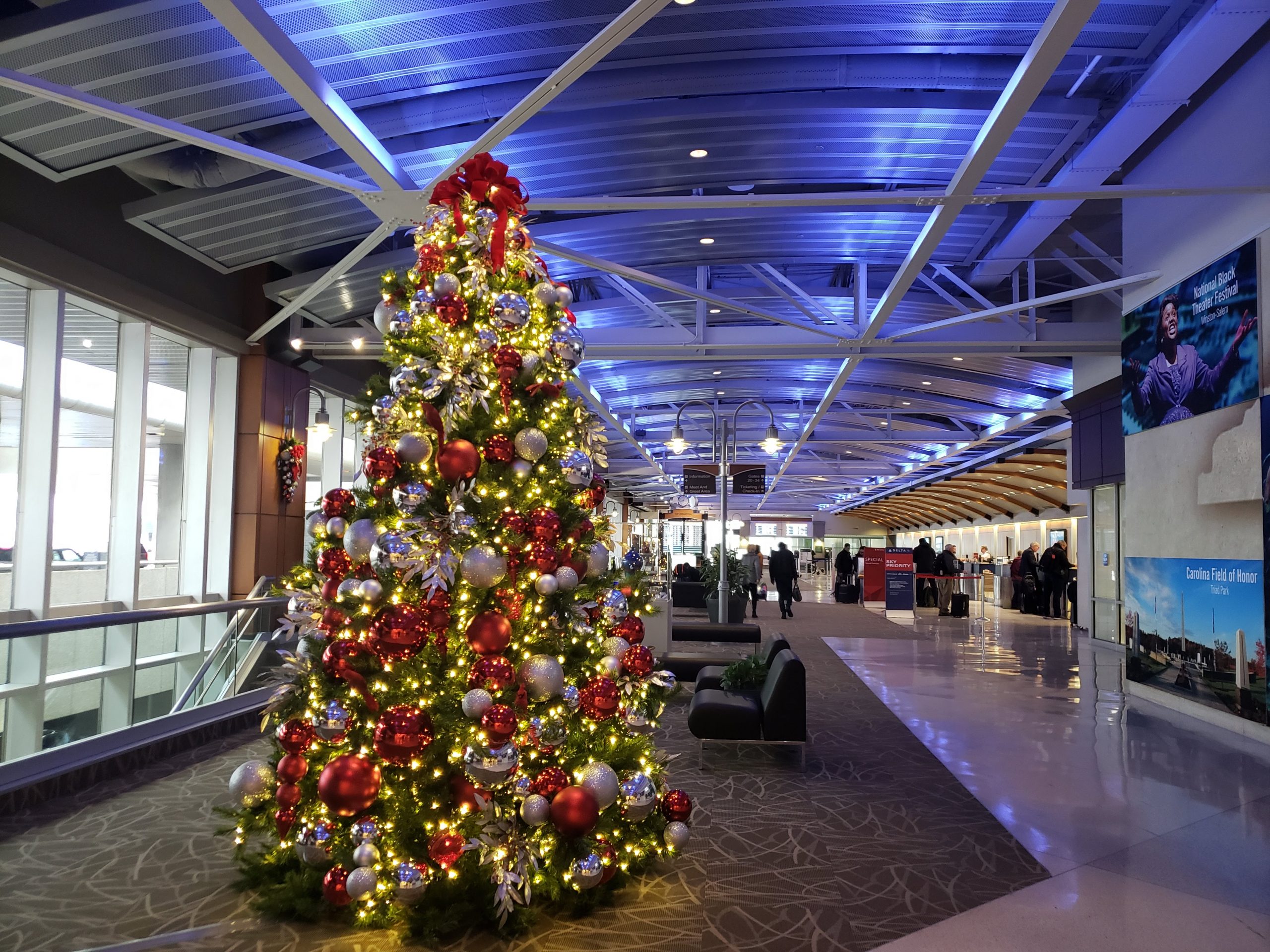 The Piedmont Triad International Airport is prepared to welcome travelers during the coming weeks. "PTI staff and our many partners are prepared to offer a safe, secure, and efficient customer experience during the holiday travel period," said Executive Director Kevin Baker.  "Passengers and visitors to the airport will be treated to live music and holiday cookies on Wednesday, November 27th.  Volunteer ambassadors will be strolling through the terminals to offer assistance and comfort to travelers."
It's important that travelers plan ahead before arriving to PTI to ensure their holiday travel experience is enjoyable and stress-free. These travel tips will get passengers to their boarding gates faster:
Before Leaving Home or the Office: Check in online in advance and print your boarding pass. TSA and PTI airlines accept mobile boarding passes, but having a printed pass can be helpful if a mobile device experiences power or connectivity issues;
Even with a boarding pass, travelers should reconfirm airline flight status as schedules may change due to weather or other factors;
Review the TSA's Top 5 Tips for travel and packing, which includes leaving holiday gifts unwrapped as they may need additional screening;
Allow plenty of time to get to the airport, park and go through airline check-in and TSA screening process. TSA requires travelers in standard lanes to remove all personal electronics larger than a cell phone from their carry-on bags and place them in bins with nothing above or below them so that TSA officers can get a clear X-ray image of these items (e.g.: laptops, tablets, e-readers, cameras). For more information tsa.gov
Be patient if delays occur. Aviation professionals around the globe are working together to get travelers to their destinations safely and on time.
Prepare for security screening during the holidays there are more travelers who are not as familiar with the rules and procedures for air travel and security. TSA screening procedures allow passengers 12 and under and 75 and older to leave their shoes on, and the adult group to leave on light jackets. TSA Pre-Check is offered at PTI.
Limit your stress by limiting your carry-on baggage. Airlines are enforcing tighter restrictions on the amount/size of baggage you may carry onto planes. Bring only one bag that will fit under the seat or in the overhead bin and one personal item, such as a purse or briefcase.
Place medicine, jewelry, cameras and other valuable items in your carry-on baggage.
Handle prohibited items properly. Remember that firearms, ammunition and knives are prohibited at the TSA For a complete list of permitted and prohibited items, visit www.tsa.gov.
Food items such as pies and cakes are permitted through security checkpoints, but may require further inspection. If travelers are not sure if a food item is considered a liquid or gel it is best to pack the item in checked baggage or ship it to a destination in advance.
Remember 3-1-1 for liquids: Liquids, gels, aerosols, creams and pastes must be 3.4 ounces or less and all bottles must fit in one quart size plastic bag and placed in a bin for screening. This includes sun block and tanning sprays. One quart-size bag is permitted per person.
TSA Cares: Travelers or families of passengers with disabilities and medical conditions may call the TSA Cares helpline toll free at 1-855-787-2227 with any questions about screening policies, procedures and what to expect at the security checkpoint 72 hours prior to traveling. Injured service members and veterans including individuals associated with a wounded warrior program may contact TSA Cares to help facilitate the screening process.
Contact:  Stephanie Freeman 336-665-5644