Piedmont Triad International Airport COVID-19 Center
Passenger Guidelines
In response to the health risk posed by the COVID-19 pandemic, the Piedmont Triad Airport Authority would like visitors to the airport to comply with the following guidelines:
Face Coverings: All airport passengers and guests should follow the Centers for Disease Control (CDC) guidelines and should wear face coverings while inside the terminal building unless a face covering would be inappropriate due to the age of a child or a medical condition.
Arrive Early: Passengers should plan to arrive at the airport well in advance of their departure times to help prevent crowding caused by last-minute rushing before scheduled flights.
Limit Touchpoints: Travelers should check with their airline on luggage recommendations and use mobile boarding passes.
Social Distancing: Passengers should maintain a six-foot or greater distance from non-household members in all areas of the airport including gate seating.
Non-Passengers: Those picking up or dropping off passengers should not enter the main terminal (when possible); instead they should use the short term parking in front of the main terminal, stay in their vehicles and communicate by cell phone unless they are assisting unaccompanied minors, passengers with disabilities, or others who need assistance.
Please view the CDC's steps to help prevent getting and spreading COVID-19. 
Click here to view the CDC's travel-related frequently asked questions.
The Airport Authority appreciates your compliance with these guidelines.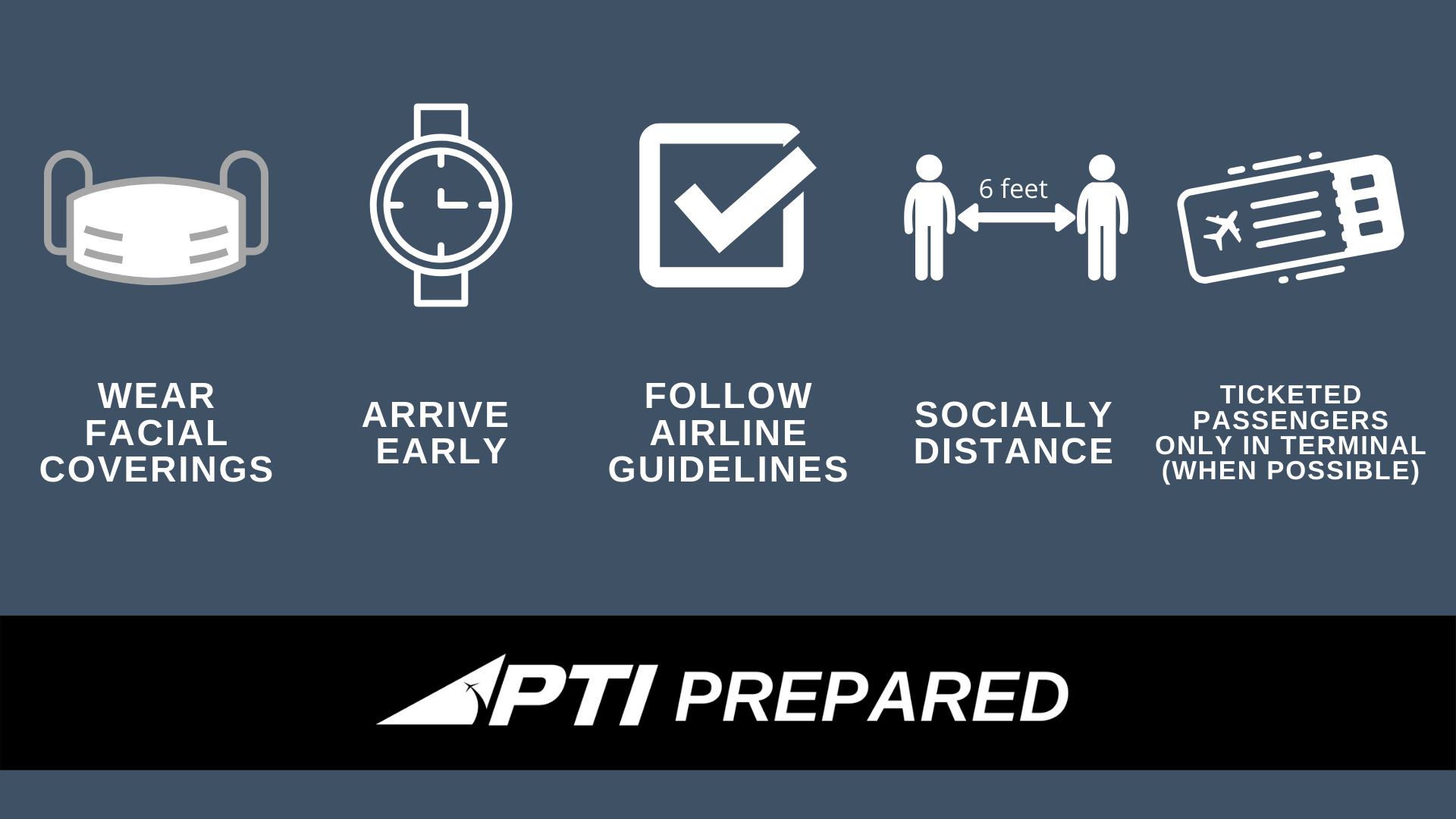 PTI Working to Keep Passengers Safe
The safety and security of our passengers and employees is the top priority of management and staff at the Piedmont Triad International Airport.
For the safety and convenience of our passengers during the COVID 19 pandemic, the airport has installed additional hand sanitizer stations throughout the airport, placed social distancing markers, and has added signage in high traffic areas reminding our passengers of best practices to stay healthy.
From the earliest days of the Coronavirus pandemic, operations personnel began stocking sanitizing chemicals and scheduling additional staff to perform intensified cleaning of the airport on a regular basis, wiping down handrails on escalators, cleaning door handles, sanitizing baggage claim areas and disinfecting seats at gate areas.
The Airport Authority is taking these measures to reduce the risk of the coronavirus being spread on public surfaces that airport staff refers to as "touch points" – common areas where the virus could be picked up by touch. These practices continue.
Airport staff is following the recommendations of the Centers for Disease Control, and continues to coordinate efforts with other public institutions, Cone Health and the Guilford County Health Department.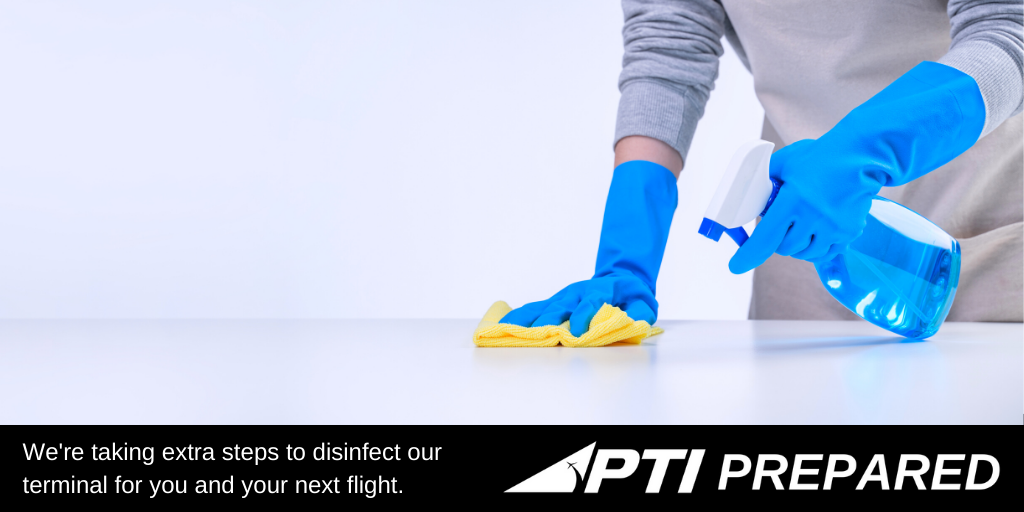 Impact on Airline Schedules
The Centers for Disease Control has issued guidance that no one should travel unless that travel is essential. In addition, the governor issued an order in March that directed North Carolina residents who do not work in essential services to stay at home. That order has since been loosened to allow some businesses to reopen. Governors of other states have issued similar restrictive orders.
The combination of these actions taken to control the spread of the COVID 19 virus has severely reduced air travel at the Piedmont Triad International Airport. In response to the lower demand, airlines are flying significantly reduced schedules. All airlines are responding to rapidly changing conditions. As a result, scheduled flights are subject to last-minute cancellation.
For passengers who need to take part in essential travel, please check the flyfrompti.com homepage OR your airline website for flight status before coming to the airport. The latest flight information will be posted there. Airline phone lines are very busy during this time, so checking online is the best option for travelers who want to confirm flight status.
Click on the name of your airline below to check your flight's current status on the airline website:
     September 3rd Update:
Starbucks (North Concourse): 8:00-10:30/11:00 with a brief closure around 9:00 AM
The Local (North Concourse): 10:30AM- 3:30PM
Starbucks (South Concourse): 6:00AM-11:30AM
ACC American Café (South Concourse): 11:30- 3/4:00 PM
As flight schedules change HMS Host may modify hours.
     August 4th Update:
New concessions hours will be as follows:
Starbucks (South Concourse): 6:00AM-11:30AM
ACC American Café (South Concourse): 11:30- 3/4:00 PM
Starbucks (North Concourse): 5:00AM- 8-8:30AM
The Local (North Concourse): Projected to open 8/6- 10:30AM- 3:30PM
     July 9th Update:
Due to increased traffic at the airport, the ACC Cafe is now open for business on the south concourse (Allegiant & American Airlines side).
The ACC Cafe will be open from 10:00 AM to 5:00 PM.
     June 17th Update:
Updated Retail Store Hours
Pre-security stores: Open 8:00 AM – 4:00 PM
South Concourse (American/Allegiant side): 5:30 AM – 3:00 PM
North Concourse (Delta/United side): 6:00 AM – 3:00 PM
     June 2nd Update:
The short-term metered parking area in front of the terminal is now free for those who are dropping off or picking up passengers at the airport. However, we ask that you please limit the time spent parked in a space to 1 hour. For those who must be parked for a longer period of time, please use the long term parking deck.
     May 27th Update:
Updated hours for the Starbucks locations are as follows effective June 1st:
South Concourse (American, Allegiant, & Spirit): Open 6:00 AM until last morning flight
North Concourse (Delta and United): Open 5:30 AM until last morning flight
     May 20th Update:
Please be aware that our valet parking provider, USA Parking, is currently closed. At this time, valet is scheduled to re-open on July 15th.